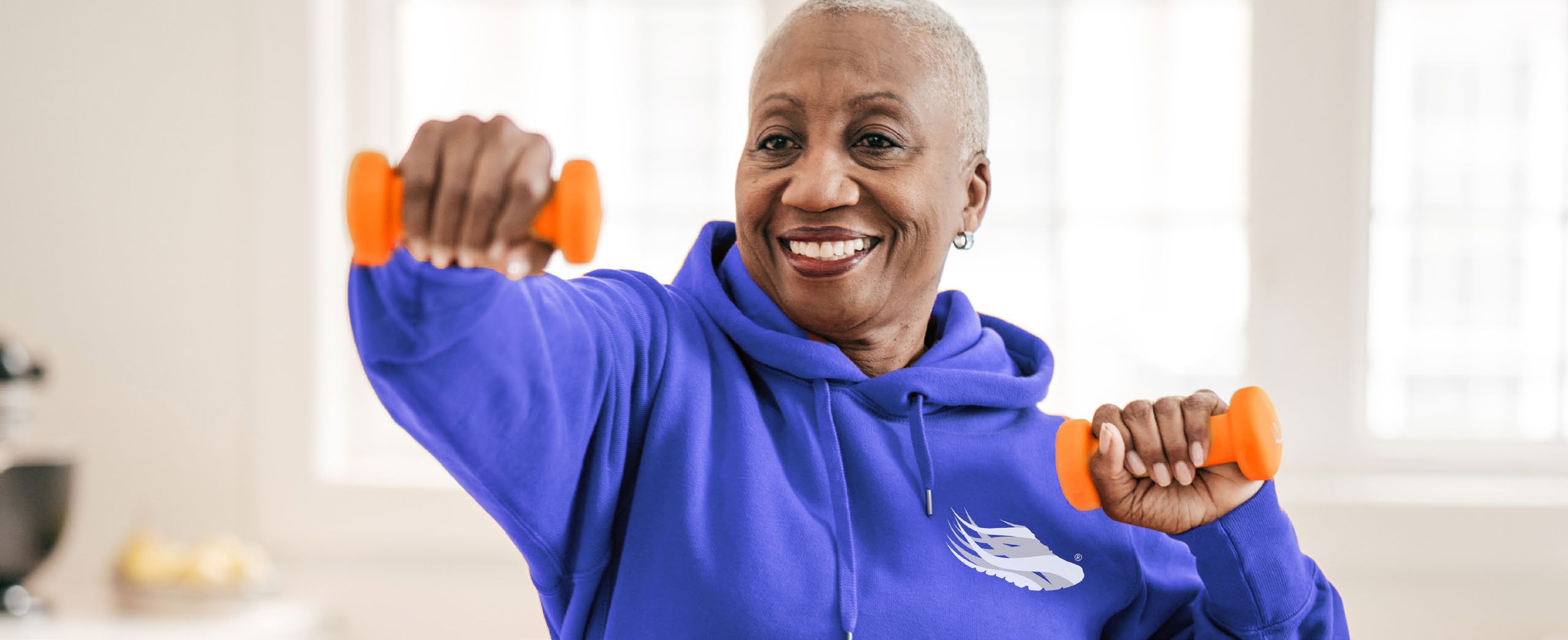 GET ACTIVE YOUR WAY
with SilverSneakers®, you're free to move.
Movement and exercise are essential to your good health. SilverSneakers supports you in any way you decide to move.
SilverSneakers includes:
• Live classes and workshops
• 200+ workout videos
• Mobile app with digital workout programs
• Thousands of locations*
quick tips
Remember:
Follow your state and local government guidelines and mandates.
Follow your heart — go when you're ready!
We're here for you whether that's at the gym, a SilverSneakers FLEX® class or through SilverSneakers Live.
Call or visit your location's website before your first visit.*
Click here for the latest Coronavirus information from the CDC.
Returning to the Gym
Know before you go
Call or check your gym's website to see if they're limiting how many members are allowed in at the same time.
Ask if there are limited hours or special times for older adults.
If you are interested in group exercise classes†, ask if they are being offered.
Ask if there is a pre-registration or sign-up for classes in order to accommodate smaller group sizes.
Understand that your gym will likely enforce social distancing.
If you experienced illness or injury, check in with your physician before heading back to the gym or class​.
Before your visit
Consider carrying hand sanitizer with you.
Bring your own water bottle instead of using a public water fountain — and remember to stay hydrated.
Some locations are requesting that you not bring any personal items with you beside a card key. Check with your location for any specific guidelines.
During your visit
Follow all recommended guidelines at the location. ​
If you haven't been working out, ease back into a routine. You may notice changes to balance, strength or cardiovascular endurance.
Wipe down equipment with disinfectant before and after use.​
Avoid touching your face after using gym equipment​.
Remember, the use of equipment in SilverSneakers classes is optional (except for the chair).​ If you did not bring your own mat, be sure to disinfect the provided mat before using it. ​
Be mindful of commonly-touched surfaces: lockers, benches, door handles, faucets – consider wiping down before touching and using hand-sanitizer after touching.​
After your visit
Refer back to CDC guidelines for appropriate hand washing and disinfecting/sanitizing.
Wash your hands thoroughly with soap for at least 20 seconds after your workout and before leaving the gym. ​
Avoid touching anything as you exit the gym​.
Wash your towels and workout clothing in hot water after you get home. ​
Disinfect your mat, gym bag or any other personal equipment you may have brought to the gym with you. ​
Pat yourself on the back for completing a great workout!
4 Tips to Protect Yourself
1. Wash your hands often
Wash your hands often with soap and water for at least 20 seconds especially after you have been in a public place, or after blowing your nose, coughing, or sneezing.
2. Avoid close contact
Avoid close contact with people who are sick, even inside your home. If possible, maintain 6 feet between the person who is sick and other household members. ​
3. Follow guidelines from local and national authorities
Do not go to the gym if you are not feeling well or believe you may have been exposed to the virus. If you're at higher risk of serious illness, you might consider waiting to return to the gym or consult your physician.
Regulations on cloth face coverings vary by state and participating location. Follow local guidance and communicate with your location to determine the regulations that apply.
Continue to keep about 6 feet between yourself and others. A cloth face cover is not a substitute for social distancing.​
If you are in a private setting and do not have on your cloth face covering, remember to always cover your mouth and nose with a tissue when you cough or sneeze or use the inside of your elbow.​
4. Clean and disinfect
Clean and disinfect frequently touched surfaces daily. This includes tables, doorknobs, light switches, countertops, handles, desks, phones, keyboards, toilets, faucets, and sinks.​
Source: https://www.cdc.gov/coronavirus/2019-ncov/prevent-getting-sick/index.html
Virtual Fitness Options
If you feel more comfortable with at-home fitness, SilverSneakers is here for you.
— Live classes and workshops
— 200+ video library
— Workout programs and scheduler